General Dentist in Denver
---
General dentistry is concerned with preventing and treating oral health issues. The most basic of the general services offered by our Denver dentists occur during your routine visits to our office. These visits, for professional teeth cleaning and thorough examination, allow us to remove all tartar, plaque, and debris from the surface of teeth while eliminating stains and producing a polished appearance. They also allow us to detect early warning signs of common oral health issues, enabling our dentists to provide swift treatment that can help prevent much larger issues in the future.
If it has been longer than six months since your last visit to the dentist, call 303-321-5656 to schedule your next appointment right away. Located in Cherry Creek, DeWitt Dental Associates welcomes patients from all surrounding Denver and Front Range communities.
Our General Dentistry Services
The dentists at our Denver office have decades of combined experience helping men and women throughout the Metro area achieve strong, healthy, and attractive smiles through targeted general dentistry services including:
Our dentists and dental staff believe you should not only feel great about the way your smile looks, you should also have healthy teeth and gums. A beautiful and healthy smile can improve your confidence and self-esteem, and provide you with optimum tooth function. Many people feel better in social and professional interactions when they feel good about their teeth and smile.
To help you achieve strong, healthy teeth, our dentists will look for early signs of any dental problems, such as:
Tooth decay
Gum inflammation
Gum recession
Cracked teeth and other dental emergencies
Oral cancer
It is important to catch these issues early. Although we can treat them at various stages, you can get the most effective treatments when problems are spotted early. Our skilled and experienced dental hygienists help you prevent these dental problems by providing useful oral health tips and techniques.
A good at-home dental hygiene routine is an important part of your overall dental health maintenance. This should include brushing your teeth after every meal and snack with a soft-bristled toothbrush and fluoride toothpaste, and flossing at least once daily. We will discuss these things in greater detail during your next visit to help you optimize your oral health routine.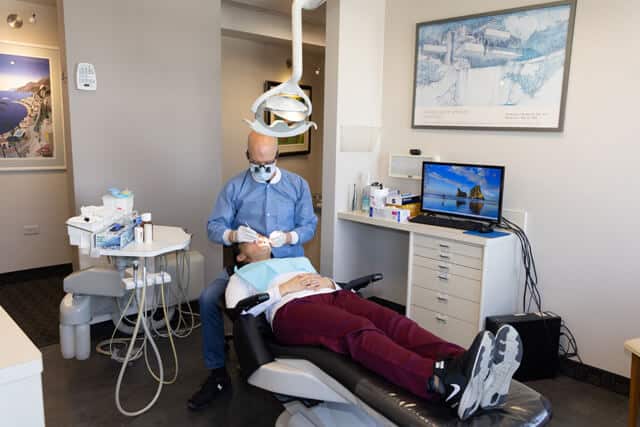 The Importance of General Dentistry
Preventive dentistry, like routine visits for cleanings and making sure you floss, is essential for avoiding oral health problems, but even the best regimen may fall short, allowing gum disease or tooth infection to take hold. Left untreated, gum disease in particular poses serious health issues.
Gum disease is a known risk factor for:
Heart attack and stroke
Hypertension
Breast cancer
Pancreatic cancer
Liver and kidney failure
Gum disease can also lead to serious oral health issues including tooth loss, tissue and bone necrosis (death), and structural changes to the jaw. Our dentists check for signs of gum disease during your routine visits, but symptoms of periodontal disease, such as swollen or bleeding gums, should prompt a call for emergency service. Gum disease is not hard to treat if it is caught early on. Left to progress, however, and the risks are great.
In addition to helping prevent oral and systemic health problems, general dentistry can help keep your teeth looking their very best. If you have cosmetic concerns, we can discuss these during your visits to make sure you are receiving the services that interest you most. If you are nervous about any portion of your procedure, we can discuss your options for gentle sedation to help ensure your absolute comfort before, during, and after your time in our care.
To schedule an appointment at DeWitt Dental Associates, please call 303-321-5656 today. Our Denver dentists welcome patients from Littleton, Englewood, Aurora, Wheatridge, and all Metro area communities.