Dr. Katie Magstadt, DDS
Specializing in Orthodontics and Same Day Crowns at our Cherry Creek location in Denver, CO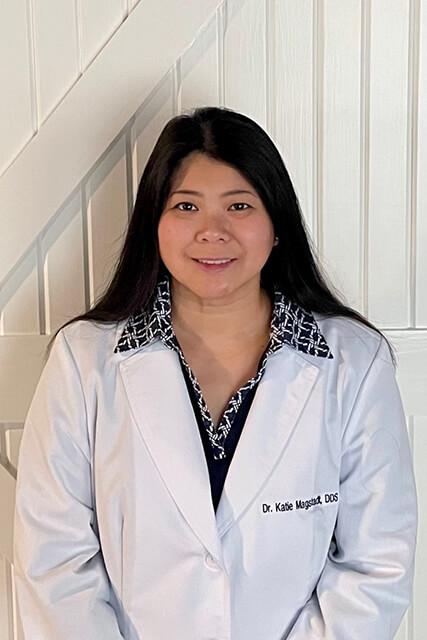 About Dr. Katie Magstadt
Dr. Katie Magstadt, also known as Dr. Katie, pursued her undergraduate degree at the University of Denver.  She then attended graduate school at the University of Southern California School of Dentistry, earning her Doctor of Dental Surgery degree in 2004.  Dr. Magstadt had received a full scholarship to Dental School from the United States Air Force through their Health Professions Scholarship Program.  When she graduated from USC School of Dentistry, she served as a Captain/Dentist in the USAF.  She thought that she would get to travel and see the world, but ended up stationed at Tinker AFB, OK.  Captain Kate (what her friends would address her as and made her sound like a superhero) served a total of 8 years in the military, spent 11 years in her own private practice, and joined DeWitt Dental Associates in Sept 2019 after relocating from Georgia.

Her philosophy is to treat people with kindness, compassion, and to address patients' dental needs in an effective and caring manner.  Dr. Magstadt is committed to staying current with continuing education classes and latest technology, including CEREC same day crowns and SURESMILE Clear Aligners to straighten teeth.  She is dedicated to improving one smile at a time in this fun and state-of-the-art practice. 
Be true to your teeth so they won't be false to you!
— Dr. Magstadt
Personal Interests
While not practicing dentistry, Dr. Magstadt enjoys spending time with her family, hiking, kayaking, playing tennis, bicycling, skiing, snowboarding, cooking, and traveling all over the world.  She also enjoys volunteering her time with Habitat for Humanity, Give Kids A Smile, and going on Humanitarian Missions when the opportunity arises.