Sedation Dentist in Denver
---
Suffering from dental anxiety and fear can make every dental appointment an uncomfortable experience. Cherry Creek dentist, Dr. Michael DeWitt, has over 35 years of Sedation experience and specialized training that qualify him to offer IV sedation, which means we can provide the right level of sedation for your needs and specific dentistry services.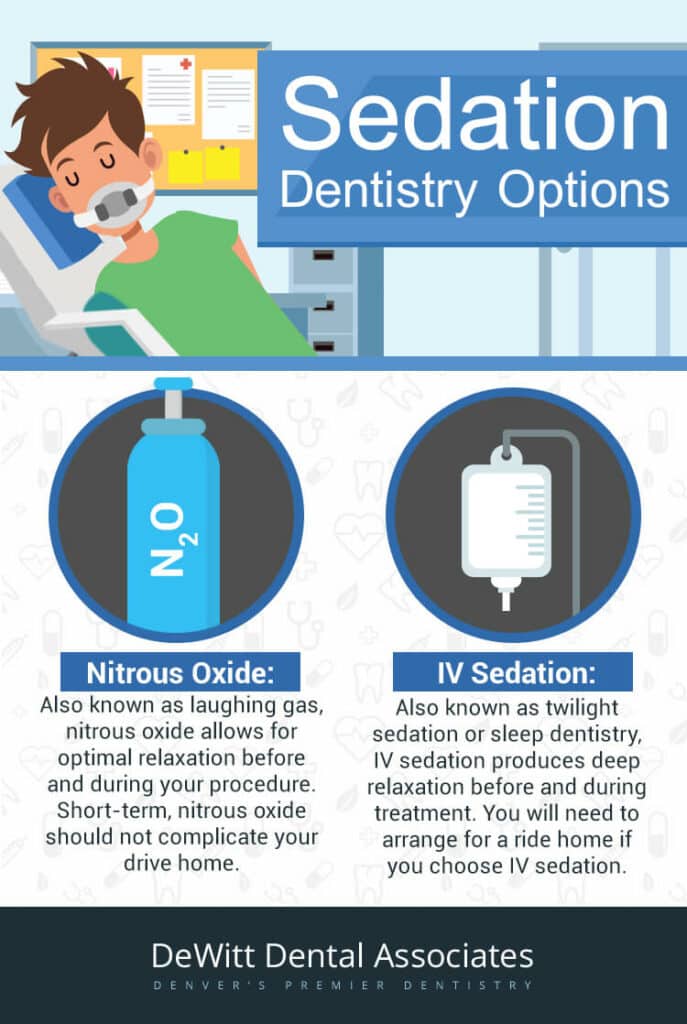 To learn more about our state-licensed sedation dentistry practice in Cherry Creek, please call DeWitt Dental Associates at 303-321-5656 and schedule a consultation today. We welcome patients living in Denver, Littleton, Englewood, Highlands Ranch, and all surrounding Metro communities.
Sedation Dentistry Candidates
For some people, anxiety and fear at the thought of dental services causes them to neglect their oral health by failing to schedule routine cleanings and exams. Without routine care, dental problems like tooth decay, gum disease, and oral cancer can go undetected, allowing them to progress into dangerous and even deadly dental and systemic health problems. For this group of people, sedation is an absolute blessing as it eliminates anxiety while creating a feeling of wellbeing and calm.
You may be the ideal sedation dentistry candidate if you:
Suffer from dental phobia due to previous bad experiences or trauma
Feel anxious or nervous at the thought of dental services
Dislike the sights, smells, or sounds of medical offices
Have a fear or dislike of needles or dental instruments
Both nitrous oxide and IV sedation can help allay the emotional and physical discomfort brought about by dental phobia. However, you needn't be suffering from anxiety to be a good sedation dentistry candidate.
DeWitt Dental Associates is a full-service general and cosmetic dentistry office located in the Cherry Creek area. We welcome patients from all Metro Denver communities and surrounding areas of Northern Colorado.
Dental sedation may be useful if you:
Have a sensitive gag-reflex
Suffer from TMJ
Have sensitive teeth or gums
Suffer from RLS or peripheral neuropathy
Require more than one treatment during a single visit
The only way to know if sedation is right for you is to visit us for a consultation. We want to help you overcome your dental fear or discomfort – whether it's slight or severe – so that you can enjoy optimum oral health.
Sedation dentistry is a safe and effective way to achieve comfort and calm before and during your appointment at our Cherry Creek office.
Types of Sedation Dentistry
At DeWitt Dental Associates, we strive to make every patient feel completely at ease, comfortable, and confident in their treatment. This is why we have chosen to offer two of the most effective forms of dental sedation available: IV sedation and nitrous oxide. During your initial consultation, we will assess your comfort level by listening closely to your concerns and help you choose the type of dental sedation that will best meet your specific needs.
IV Sedation
Our office is state-certified to provide mild to moderate IV sedation. This gives us a unique advantage over many other dental offices in the area where only oral conscious sedation or nitrous oxide are available.
At both the mild and moderate level, you will still be awake but in a deeply relaxed state that allows for optimal comfort and calm. For certain procedures and certain patients, we can also provide deep IV sedation, which will be administered by a nurse anesthetist. In deep sedation, you will be in a sleep-like state similar to that achieved before any surgical procedure.
During all IV sedation procedures, vitals are monitored and great care is taken to protect patient health, although complications are extremely rare. Dental IV sedation has a long history of both safety and efficacy, and our training and certifications further help us safeguard patient health and ensure the most rewarding experience.
Some of the advantages of IV sedation include:
Deep relaxation or sleep-like state during the procedure
Little to no memory of the procedure
Administered by qualified, experienced medical professional
IV sedation can provide a level of relaxation that few other methods can. If you deal with extreme anxiety, pain, discomfort and fear during dental procedures, then IV sedation may be right for you. The only way to know for sure is to visit us for a consultation.
Nitrous Oxide Sedation Dentistry
Nitrous oxide is a gas administered by our dentists through a breathing mask. This sedation is often called "laughing gas" because of the carefree feelings it can induce. Some of the advantages of nitrous oxide include:
Places you in a light state of relaxation
Effects wear off very rapidly once you remove the breathing mask
Effective for mild anxiety during dental appointments
Nitrous oxide is mixed with oxygen, allowing steady and consistent breathing to continue even as you breathe it in through your nose. As soon as our dentists remove the mask, the effects will begin to rapidly wear off. In fact, many people are able to drive themselves home and get right back to their day. If you are placed in deep sedation with an IV, we may require you arrange for someone else to drive you home.
Nitrous oxide is beneficial for patients who have some anxiety before or during dental appointments, but it cannot reach the deeply relaxed states that IV sedation can provide.
Both sleep and mild forms of sedation are effective and safely provided at our practice. We will help you choose which method will fit your needs and concerns during your initial consultation.
Benefits Offered by Sedation Dentistry
For people with certain dental fears and discomforts, the advantages of sedation dentistry include:
Eases anxiety and fear so you can get the dental care you need
Enables you to have multiple dental treatments performed at once because it eliminates discomfort you may experience when sitting in the treatment chair
Provides the level of sedation you feel you need to be comfortable and relaxed
Provided in our advanced, state-of-the-art dental care setting
We believe you are entitled to dental care that creates and protects a strong, healthy and attractive smile for years to come. We'll help you decide if the advantages of sedation dentistry make it the right choice for you.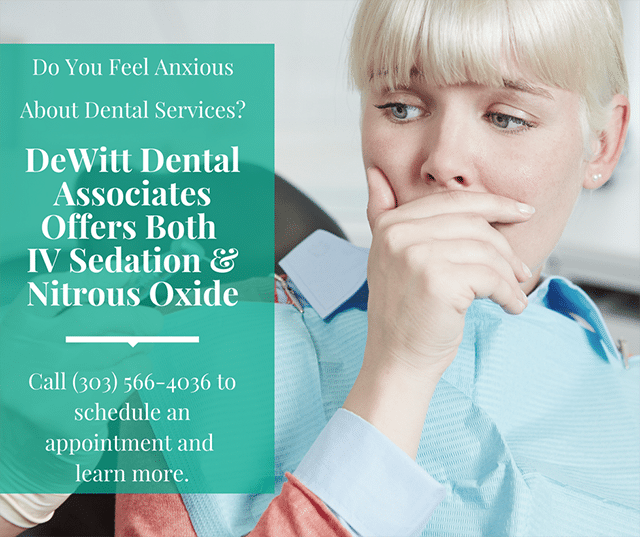 Ask Our Dentists if Sedation Dentistry Will Benefit You
During your consultation, we encourage you to ask any questions you may have about dental sedation in general along with questions about the types of sedation we offer. Informed patients generally feel very confident when making choices about their dental care. To learn more about sedation and whether it's right for you, you may want to ask the following questions about dental sedation:
Do you think I can benefit from sedation dentistry?
What type of sedation do you recommend?
What are the differences between IV sedation vs. nitrous oxide?
What types of dental treatments do you provide sedation for?
What are your qualifications to provide sedation dentistry?
We will take time to answer your sedation dentistry questions honestly, providing you with the information you need to make an informed decision about your health and giving you an opportunity to better understand all of your options. If you have questions about this or any of our dental services, give us a call at 303-321-5656 to schedule your consultation and learn more.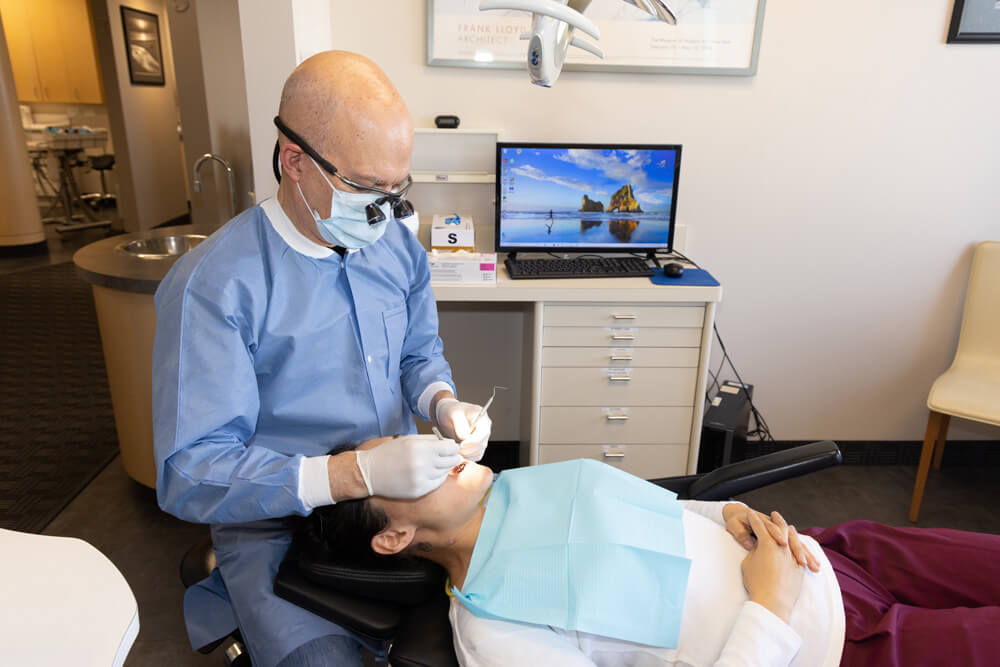 Financing Sedation Dentistry
Sedation dentistry is an additional service that can be added to any of the treatments offered at DeWitt Dental Associates. Because it is an add-on, it comes with additional costs. We do not ever want cost to prohibit our patients from finding complete comfort while in our care and are pleased to offer many payment options for dental sedation.
Sedation Dentistry and Dental Insurance
Depending on your plan, you may have coverage for sedation dentistry through insurance. It is important to note that not all dental insurance carriers will cover sedation and those that do may not cover the full cost. We encourage you to review your policy or call your insurance provider prior to relying on this method of payment for your sedation dentistry procedure.
CareCredit®
Our Cherry Creek sedation dentists accept dental financing through CareCredit. This healthcare financing company offers a range of payment options, including 0% APR and low, fixed monthly rates, helping ensure there is a plan for every budget.
You can apply for CareCredit through their website or we can provide you with application information when you visit our office.
Other Payment Methods
In addition to insurance and CareCredit, we accept cash and all major credit cards for sedation dentistry services. If we are submitting to your PPO, please be advised that uncovered expenses will need to be paid for at the time services are rendered. If you foresee this as a problem, please discuss financing options with our patient coordinator during your initial consultation.
Why Choose DeWitt Dental Associates for Dental Sedation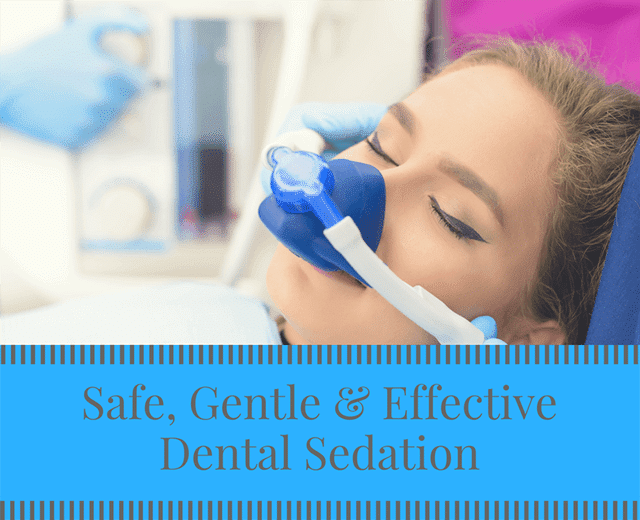 Dr. DeWitt is a state-certified IV sedation dentist with decades of experience helping people in and around Denver achieve optimal comfort prior to and during their dental procedure. Dr. DeWitt is able to offer nitrous oxide sedation as well, enabling us to help people struggling with all levels of discomfort, anxiety, and fear.
Competent, qualified, and caring, our dentists are committed to helping each patient feel safe, comfortable, and calm while in our care. No matter if you are visiting us for routine services, a dental emergency, or a restorative or cosmetic dental procedure, we are here to provide you with the most relaxed and rewarding experience possible. If you believe dental sedation will help facilitate that level of comfort, we welcome an opportunity to meet with you and discuss your concerns, and to help you determine if sedation dentistry is the best solution for your needs.
Contact Us to Schedule a Consultation Today!
If you live in Cherry Creek, Englewood, or surrounding areas of Colorado, please call DeWitt Dental Associates at 303-321-5656 to learn more about our sedation dentistry services. Our dentists provide safe and effective dental sedation to men and women living in the Metro Denver area, along the I-25 corridor, and throughout the Front Range.