Professional Teeth Whitening Services in Denver
---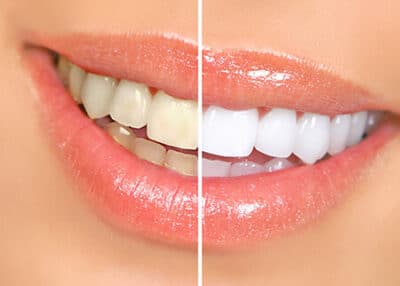 Everyone's teeth naturally discolor. This may be a consequence of age, eating certain foods, drinking certain beverages, and several other factors – all combining to make your smile look yellow, dingy, and unattractive. The most effective way to erase topical stains and get a bright smile is with professional teeth whitening at our Cherry Creek office. Our experienced cosmetic dentists offer both in-office and take-home teeth whitening options (also known as teeth bleaching), allowing us to better meet the needs of every patient we see. Determining the best teeth whitening option for you requires a complete assessment by an experienced cosmetic dentist.
If you are considering tooth whitening in Denver, please contact DeWitt Dental Associates online or by calling 303-321-5656 to schedule your initial consultation and let us help you find the safest, most effective, and longest-lasting solution for the perfection of your smile.
Causes of Tooth Stains
The following foods and beverages tend to stain your teeth more than others:
Black coffee
Tea, especially black and green tea
Tomato sauce, soy sauce and other acidic sauces
Soda
Sports drinks
Red wine
While red wine and black coffee have deeply pigmented molecules that stain your enamel, highly acidic beverages can strip your enamel, making it more vulnerable to staining molecules as well. Soda is a prime example of an acidic beverage that can erode your enamel and lead to stains.
In addition to what you eat and drink, there are some other major sources of tooth stains:
Smoking
Chewing tobacco
Aging
Certain medications
Excessive fluoride in water (fluorosis)
Many of these stains are topical and can be removed through teeth whitening at our Denver area office or with one of our professional-strength tooth whitening kits. However, deeper stains – such as those caused by tetracycline or fluorosis – may require an advanced cosmetic dentistry solution. If your stains are intrinsic (underneath the enamel), our cosmetic dentists will evaluate the extent of discoloration and recommend the best treatment for your specific needs.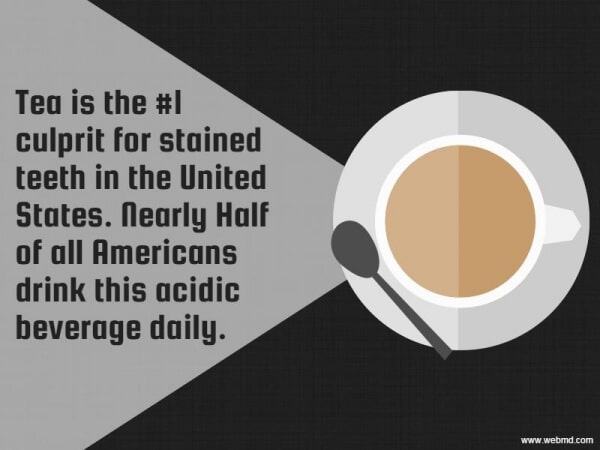 Our Tooth Whitening Options
The cosmetic dentists at DeWitt Dental Associates are pleased to offer the most advanced and effective teeth whitening options available today. These are:
Zoom! Teeth Whitening – For effective and fast in-office teeth whitening, we use the Philips Zoom! teeth whitening system. The advantages of Zoom! include:

Completed in about an hour
Whitens up to 8 shades brighter
Walk out of the office with a brightened smile
Results last many years with occasional at-home touchups
Our tooth whitening system is fast and minimally invasive. You'll come to our comfortable, spacious dental office for your appointment and leave – about an hour later – with the full effect of your results. The treatment itself is simple and painless. We will use a guard to protect your teeth and gums from the whitening gel. Once the whitening gel is applied to your teeth, a special light is used to activate the effect of the gel. Afterward, there is no waiting around for results. You'll leave with the bright white smile you wanted.
Teeth Whitening at Home – Using a customized application tray for about 30 minutes a day, you whiten your teeth with Life-Like gel for one to two weeks. The advantages of this type of teeth whitening include:

Whiten your teeth on your own time
Whiten your teeth in the comfort of your own home
Get optimal results with customized teeth trays
Addressing Deeper Stains on Teeth
Deeper stains and stains underneath the enamel may not respond well to topical teeth whitening solutions. In fact, lightening the enamel surrounding a deep stain can actually serve to enhance its appearance.
When deep staining is present, our cosmetic dentists may suggest using a topical whitener in addition to:
These services are often combined with topical treatments, allowing each tooth in your smile to be optimally brightened. If your stains have been caused by medication, the aging process, enamel erosion, or fluorosis, we will review all of your options to help you choose those best suited to create the smile you deserve.
Preventing Tooth Stains
A professional teeth whitening treatment is the best way to achieve a glamorously white smile, but there are also things you can do to prevent stains from worsening in the first place:
Avoid sipping on an acidic beverage all day. Sipping a soda or multiple sodas throughout the day increases the amount of time the acidic beverage sits on your enamel. Our dentists instead suggest having the beverage in one sitting, such as with a meal.
Use a straw to drink staining beverages. Sipping your beverage through a straw allows most of the liquid to pass your teeth. When you sip a beverage directly, a lot of the liquid washes against your enamel before you swallow. Though you shouldn't use a straw for your hot beverages, this method works well for soda, juices and iced teas.
Take your coffee and tea with milk. Recent research has shown that casein, the main protein in dairy milk, reduces stains from tea by binding to tannins. Milk may also reduce the staining ability of coffee.
Rinse your mouth with water. Rinse away staining debris by swishing water in your mouth after eating or drinking.
Brush your teeth. Brush your teeth to remove those common teeth stainers. Our dentists recommend waiting 30 minutes to brush after you eat or drink. During these 30 minutes, the enamel of your teeth is softer because of the increased acid production by the bacteria in your mouth. If you brush during this time, you may be eroding the tooth enamel. After 30 minutes, your enamel will have had the opportunity to re-mineralize.
Visit the dentist for your routine cleaning: A professional cleaning by our experienced dental hygienists removes the built-up bio film on your teeth. Staining molecules can cling to this film, so a professional cleaning can instantly brighten your smile.
These things can go a long way in preventing tooth discoloration, thereby helping you maintain your teeth whitening results well into the future.

The Dangers of Charcoal Teeth Whitening
Recently, charcoal teeth whitening has gained some popularity as an alternative to topical bleaches. However whitening teeth with charcoal is not a good idea. Charcoal is incredibly abrasive, which makes it fairly effective at removing surface stains. Unfortunately, along with those stains, charcoal can remove tooth enamel, exposing dentin and further yellowing the teeth. More worrisome, charcoal can work its way into dentin, damaging the internal structure of your teeth.
Dangers of charcoal teeth whitening include:
Inconsistent whitening
Accelerated enamel erosion
Increased risks for gum disease and tooth decay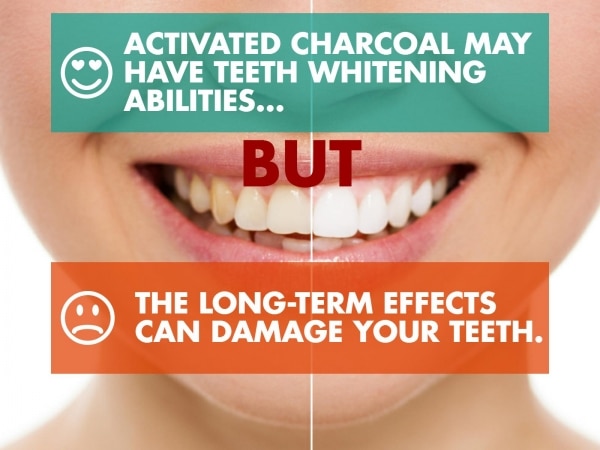 If you are considering natural tooth whitening solutions, our cosmetic dentists suggest focusing first on prevention. Even the simple act of brushing after every meal and snack, when combined with professional cleanings, can help ensure a bright smile. When stains do appear, our teeth whitening solutions are both safe and effective, and offer a lasting solution for even the most stubborn of stains.
Contact DeWitt Dental Associates For Your Teeth Whitening
If you are considering teeth whitening in Cherry Creek, please call 303-321-5656 to schedule a consultation at DeWitt Dental Associates today. Our experienced cosmetic dentists provide customized tooth whitening and smile makeover services for men and women living in the Metro Denver area including Englewood, Littleton, Highlands Ranch, and Cherry Hills.