Millions of Americans suffer tooth loss due to dental decay, gum disease, or injury. Dental implants are an increasingly popular solution to this problem. Dental implants have been used for thousands of years. The first implants were made of bamboo, copper, iron, and gold and placed directly into the jawbone. These early implants were unsuccessful because they did not fuse well with the bone and often caused infections.
Our experienced Cherry Creek dentists can restore strength, function, and beauty in your smile with dental implants. Dr. Mike Norouzinia, our implant dentist, has over five years of periodontic experience with implants. 
If you are searching for dental implants Denver, dental implants Cherry Creek or dental implants Centennial, we are here for you. If you are wondering if you are a good candidate, please call DeWitt Dental Associates at (303) 321-5656 or fill out the online booking form to schedule a consultation today. We look forward to helping your smile with our custom implant solutions.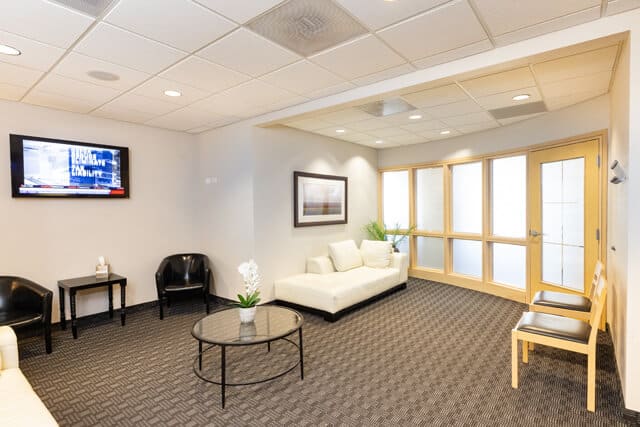 What are Dental Implants?
Dental implants are artificial tooth roots placed in the jawbone that act as an anchor for replacement teeth. Implants can be used to support one or more artificial teeth or support an entire dental prosthesis (false teeth). Implants also help to keep the jaw bone healthy and stimulate growth.
Dental implant surgery is a two-part surgical procedure that consists of the dental implant and the artificial tooth. The implant is made of titanium and is placed in the jawbone by an experienced oral surgeon under anesthetic.
The process of osseointegration begins immediately after implant placement, and it is the process by which the dental implant fuses with the jawbone. This process can take several months; however, some patients may experience osseointegration in as little as a few weeks.
After the implant fuses with the bone, a small connector piece called an abutment is placed on the dental implant. The abutment is used to support the artificial tooth. The artificial ceramic or porcelain dental crown or tooth is then attached to the dental abutment by one of our cosmetic dentists.
Types of Dental Implants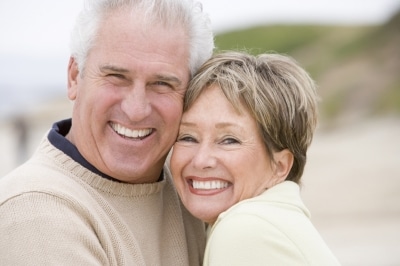 Endosteal implants are the most common type of implant. Endosteal implants are placed directly into the jawbone. Once the implant has fused with the bone, a dental abutment is placed on top of the implant, and the artificial tooth is attached to the abutment.
Subperiosteal implants are placed on top of the jawbone but under the gums. This type of dental implant is used for patients who do not have enough healthy jaw bone to support a traditional dental implant. This type is rarely used because it is highly invasive and has a high risk of infection.
Some popular brands of implants we use are:
Nobel Biocare: Nobel Biocare is a leading innovator of implant-based dental restorations. They are constantly working to improve dental implants and dental implant techniques. To meet the needs of every patient and selected treatment concepts, Nobel Biocare provides a wide range of bone-level and tissue-level dental implants for all purposes, bones, and surgical techniques.
Astra Tech: The Astra Tech Implant System is a simple and dependable medical device. Using a minimal amount of components that allow for customization, it can be used for all positions in the mouth. It is ideal for one- and two-stage operations and immediate and early loading.
Straumann: Straumann dental implants are among the highest quality dental implants available. The Straumann system features the most advanced technology and materials to provide optimum results. Straumann dental implants provide comfort and aesthetics, and provide excellent functionality.
Dental Implant Benefits
Dental implants are the closest thing to natural teeth. They look and feel like your teeth and can last a lifetime with proper care!
Dental implants are strong and stable. They will not slip or move in your mouth like dental bridges or dentures and do not require special adhesives.
Because implants are placed in the jawbone, they help to preserve the bone and prevent bone loss. This also helps to keep your teeth and gums healthy by preventing bacteria and food particles from getting trapped beneath dental bridges or dentures.
Dental implants can support an individual crown or an entire dental prosthesis like a removable denture. Dental implants are a good option for people who have lost all of their teeth and those who have lost one or more teeth.
Am I a Good Candidate for Dental Implants?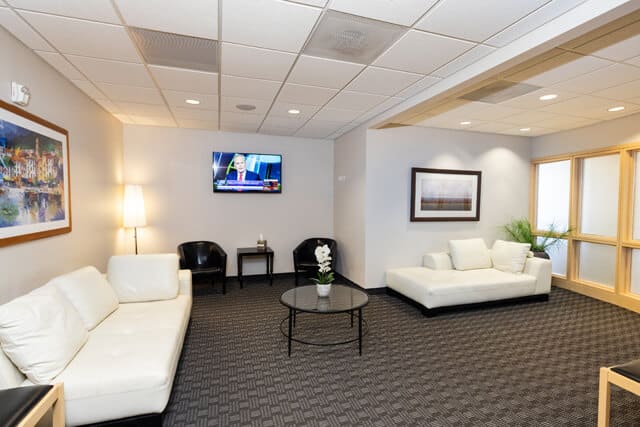 Most people are good candidates for implants. However, some factors can affect whether or not implants are right for you.
Our dentists will first evaluate your dental health to ensure you have healthy gums and sufficient bone density to support implants. If you don't have the bone structure to support an implant, additional treatments, such as bone grafting, may be recommended to ensure success.
You must also have healthy gums because implants require a strong foundation of gum tissue to stay in place. If you have periodontal disease, our dentists will work with you to get your gums healthy before placing implants.
If you are a smoker, you may still be able to get implants. However, it is important to quit smoking before and after implant surgery to give yourself the best chance for success. Smoking can impede implant success by affecting bone growth and the healing process and result in failure.
You must be willing to follow pre and postoperative instructions and maintain good oral hygiene.
Dental implants are not typically recommended for children or adolescents because their bones are still growing.
What If I Am Not a Candidate?
If your jaw doesn't have the appropriate width and density to support a dental implant, we can also talk about alternative tooth replacement options, such as a dental bridge which are less invasive and just as effective.
Like implants, bridges are restored with natural-looking and long-lasting dental crowns. We can complete the entire bridge placement and restoration process in a single day with our same-day CEREC technology.
Because we offer same-day dental crowns, we can quickly restore dental implants as soon as they have been secured into the jaw – allowing you to go forward with a strong and attractive smile in a fraction of the time required for a crown milled off-site. In many instances, insurance will cover the cost of a dental crown, but if this is not the case for you, we would be happy to discuss other financing options.
During your consultation at our Cherry Creek dental office, we can discuss every option that will work best for you.
Questions To Ask at Your Consultation
The best way to find out if implants are right for you is to schedule a consultation with our dentists. During your consultation, ask questions about the procedure and the dentist. Here are a few questions you should ask:
How many dental implants have you placed?
What is the success rate of implants at your practice?
How long does the entire process take?
What type of sedation and/or anesthesia will be used during implant placement?
What are my tooth replacement options if implants are not right for me?
Are there any alternatives I should consider for replacing missing teeth?
What things should I consider when comparing dental implants, dentures, and dental bridges?
Will I need to perform any special care or cleaning of dental implants?
What will be the final cost of these tooth restorations and the procedure?
Does my insurance policy cover any portion of it?
Do you offer financing options?
Risks Of Dental Implants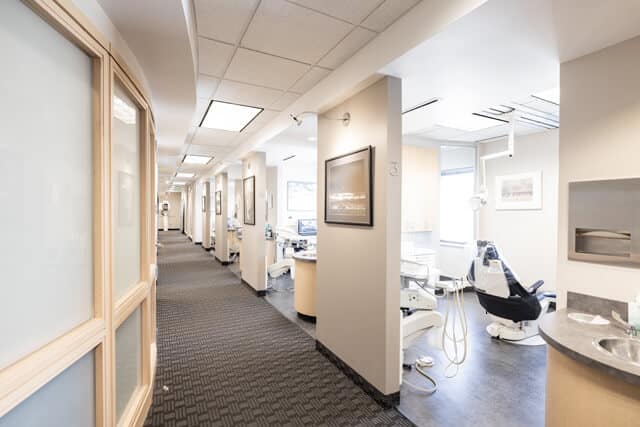 As with any procedure, there is a small risk of infection and other complications after implant placement. Some complications are:
Infection at the implant site
Nerve damage
Sinus problems
Loosening of dental implants
Allergic reaction
Damage to other teeth
Our dentists take every precaution to ensure implant surgery is as safe as possible. Dental implants have a success rate of over 95%.
Repairing Implants That Are Not Successful
If dental implants do not fuse to the bone or become loose, our dentists can remove them and start the process over. In some cases, a different type of implant may be recommended. If this happens, it is usually because the dental implants were not placed in the correct position or there was insufficient bone to support them.
If you suffer from bone loss or dental implants that do not fuse to the bone, a bone graft may be necessary to provide a sufficient foundation for dental implants. Bone loss is a common problem caused by tooth loss, gum disease, or injury.
Financing Your Dental Implant Restoration
We accept most major credit cards but understand that financing dental services with personal credit may be unattractive to some patients. In these instances, you may want to consider CareCredit, a cosmetic dentistry financing company that offers promotional rates, including 0% APR and low, fixed monthly payments. We can provide you with information about CareCredit during your initial consultation, or you can visit their website for an application.
Why Choose DeWitt Dental Associates of Denver
For over 30 years, our skilled team at DeWitt Dental Associates has been meeting the varied dental needs of people living in and around Cherry Creek. Experienced, caring, and committed, our cosmetic dentists provide individualized services and take the time to produce results that look and feel completely natural.
If you are searching for dental implants Denver, dental implants Cherry Creek, or for implants in the surrounding Metro Denver area, please call (303) 321-5656 or complete the online booking form to schedule a consultation at DeWitt Dental Associates today. We welcome patients from Littleton, Englewood, Highlands Ranch, Centennial, and all surrounding areas. We look forward to helping you with your beautiful smile!
FAQ
Are Dental Implants Painful?
Getting a dental implant can be a daunting prospect for many people, but it doesn't have to be. Dewitt Dental Associates offers a full range of sedation dentistry options to ensure you are as relaxed and comfortable as possible throughout your treatment.
Does My Insurance Cover Dental Implants?
Insurance plans generally do not cover the cost of implants. However, some plans may offer partial coverage for procedures related to the implant, such as the initial consultation or x-rays. It is best to contact your insurance provider directly to determine what coverage is available for dental implants under your plan.
How Long Does a Dental Implant Last?
The longevity of a dental implant depends on the individual patient's oral health, as well as the type of implant used. Additionally, regular check-ups and cleanings can help to ensure that your dental implant lasts for many years.
What Is The Success Rate?
The success rate of dental implants is typically very high, with studies showing a success rate of 95-98%. However, the success rate can vary depending on the individual patient and their overall oral health. Factors such as smoking, gum disease, and diabetes can all affect the success rate of dental implants.