Dental veneers are a great way to fix many cosmetic dental concerns. Veneers are used to improve the appearance of your smile by hiding minor imperfections, and they are also a good option for people who want to make their teeth look longer.
During your consultation with one of our experienced Denver cosmetic dentists, you'll discuss if you're a good candidate for veneers and what other cosmetic dentistry services can help you achieve your dream smile goals.
If you're wondering if veneers are right for you and have been searching online for the best porcelain veneers Denver, veneers Denver or veneers near me, we can help. To schedule your porcelain veneers consultation, contact DeWitt Dental Associates at (303) 321-5656 or complete the online booking form. We look forward to helping you with your smile makeover!
What Are Dental Veneers?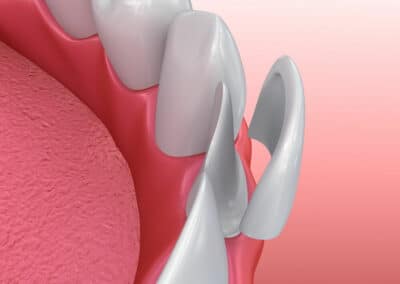 Dental veneers, also called porcelain veneers or cosmetic veneers, are very thin, custom-made shells that are placed on the front surface of your teeth. They are made from thin, tooth-colored porcelain or other materials.
Veneers can be used to correct several cosmetic dental issues, including:
Discolored teeth
Chipped teeth
Broken teeth
Misshapen teeth
Crooked teeth
Gapped teeth
Tooth size and length
Why Choose Porcelain Veneers?
Porcelain veneers are one of the most popular cosmetic treatments because they offer many benefits, including:
A natural look. Porcelain veneers are made to match the color, shape, and size of your natural teeth. They also reflect light in the same way as your natural teeth.
A durable solution. Porcelain veneers are very strong and durable. Made of more durable material than composite resin veneers, with proper care, they typically last for 10-15 years, while composite veneers may only last 4-8.
A versatile solution. Porcelain veneers can be used to correct many cosmetic dental issues.
A conservative treatment. Porcelain veneers don't require a lot of preparation of your natural teeth.
Porcelain Veneers Procedure
Placing veneers generally require two to three visits to our Denver dental office. During your initial consultation, one of our experienced cosmetic dentists will assess your smile and determine if veneers are the right treatment. If you decide to proceed with treatment, your second appointment will be scheduled to place the porcelain veneers.
Your dentist will prepare your teeth for the veneers by removing a thin layer of enamel from the front surfaces of your teeth. The dentist will make room for the veneers so that they fit seamlessly and create the most natural appearance possible. Next, impressions will be taken so your porcelain veneers can be custom-made. Temporary veneers will be placed on your teeth.
When your porcelain veneers are ready, you'll return to our office for your third and final appointment. During this appointment, your dentist will check the fit of the veneers and make any necessary adjustments. Once they're satisfied with the fit, your veneers will be bonded to your teeth.
You'll leave our office with a brand-new smile that you'll be proud to show off!
Are You A Good Candidate For Veneers?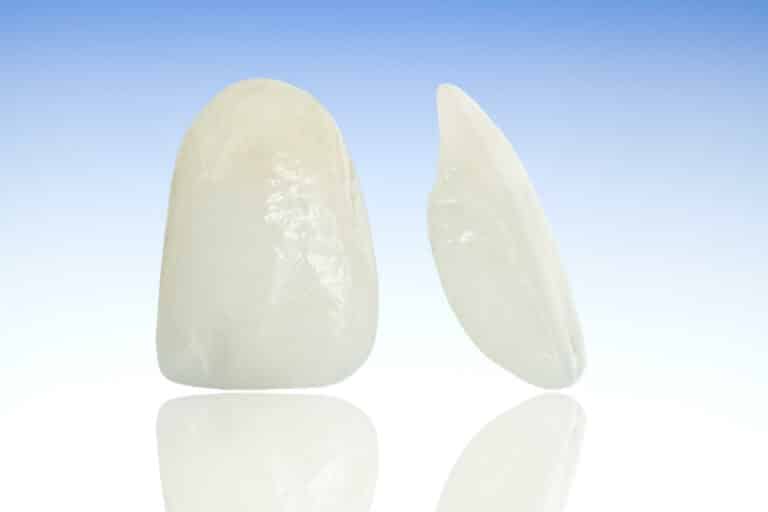 Porcelain veneers are a great solution for anyone who wants to improve the appearance of their smile. However, they're not right for everyone. If you have generally good dental health and strong teeth but want to improve the appearance of your smile quickly and in the least invasive way, then veneers may be right for you. The only way to know for sure is to visit our Denver cosmetic dentistry office for a consultation.
During your consultation, we will address any questions and concerns you have and discuss aspects of the veneers treatment, such as:
What do you want to change about your smile? The first step is determining which dental procedures can provide the desired results. All your treatment alternatives, including dental veneers, will be discussed with our cosmetic dentists.
What are your expectations of the treatment process? An advantage of veneers is the relatively simple process of placing them. Veneers may be a great option if you want smile results that do not require months or years of treatment. It only takes two to three appointments to prepare your teeth for veneers and to place them on your natural teeth.
How fast do you want to see results? Porcelain veneers allow you to have results quickly. While traditional orthodontics or other treatments take months or years to reach the final result, veneers are a great option because you will have a new and improved smile after two to three dental appointments.
How long do you want your results to last? Beautiful porcelain veneers provide long-lasting results. They resist stains and breakage, and although you may need to replace them at some point, you should be able to enjoy their results for many years.
If you're considering veneers, we encourage you to schedule a consultation with one of our experienced cosmetic dentists. During your visit, we'll assess your smile and determine if porcelain veneers are the right treatment for you.
Caring for Your Porcelain Veneers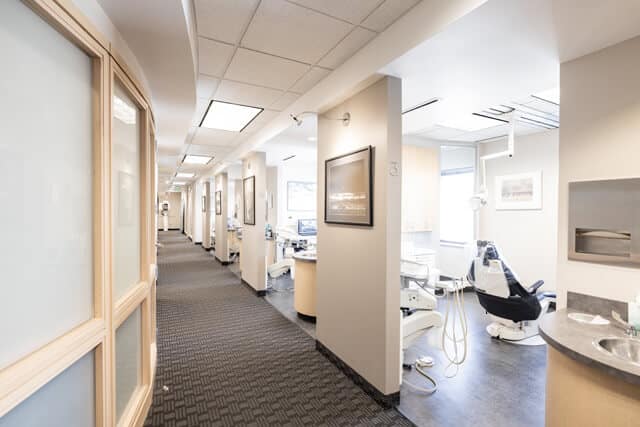 Porcelain veneers are strong and durable but require regular care and maintenance. Here are some dental hygiene tips for caring for your veneers:
Brush twice daily and floss regularly to remove plaque and bacteria from your teeth and gums.
Use a soft-bristled toothbrush and nonabrasive toothpaste to avoid scratching or chipping your veneers.
Be careful not to bite your nails or chew on hard objects, as this can damage your veneers.
Avoid using your teeth as tools to open packages or bottles, as this can put undue stress on your veneers and cause them to break.
If you play sports, wear a mouthguard to protect your teeth from injury.
By following these tips, you can help ensure that your beautiful smile lasts many years.
The Best Porcelain Veneers In Denver
If you're searching for porcelain veneers Denver or veneers near me, look no further than our experienced team of Denver dentists at DeWitt Dental Associates in Cherry Creek. We offer the best porcelain veneers, and our experienced team can help you achieve the smile of your dreams.
Schedule a consultation today to learn about porcelain veneers and how they can help you achieve the smile you've always wanted. Call our Denver cosmetic dentists at (303) 321-5656 or complete the online booking form. We welcome patients from Aurora, Centennial, Wheatridge, Westminster, and all Metro Denver communities.
Frequently Asked Questions
Are Veneers Permanent?
Veneers are not permanent but are a long-lasting solution for improving your smile. Veneers typically last 10-15 years before they need to be replaced.
Does Insurance Cover Veneers?
Most dental insurance plans do not cover porcelain veneers because they are considered cosmetic procedures.
Do Veneers Hurt?
Veneers are usually a painless process. Please speak to your dentist about sedation options for dental anxiety or extremely sensitive teeth.
Are Veneers Reversible?
Veneers are not reversible, as they require removing a small amount of enamel from the tooth surface. However, if you decide that you no longer want your veneers, they can be replaced with a different type of restoration.
Do Veneers Stain?
Porcelain veneers are resistant to staining and do not discolor over time. With proper care, they will last many years.