Our Cherry Creek Dentistry Office
---
DeWitt Dental Associates Cherry Creek is conveniently located in Denver, at our dental practice, we are committed to providing patient-focused care with outstanding service and results. We believe each of our patients deserves high-quality dentistry in a comfortable, state-of-the-art setting. To learn more about DeWitt Dental Associates Cherry Creek and our dentists, please call us at 303-321-5656.
DeWitt Dentistry Cherry Creek in Denver, Office and Services
Our luxurious, spacious dental office is located inside the office complex located at East 1st Avenue and Cook Street in Cherry Creek, near the Cherry Creek Shopping Center and numerous restaurants, cafes and other eateries. Our office is convenient to downtown Denver, Washington Park, Highlands, Englewood and the greater Denver metro area. Ample on-street parking is available, as well as several reserved spaces for our patients on the south side of the building.
We offer many dentistry services, including:
Our skilled and experienced dentists provide effective, gentle dentistry. Our dentists stay informed of the latest industry knowledge and technology by attending dentistry conferences and continuing education opportunities. Our friendly and caring dental hygienists are trained in the use of advanced techniques and technology. Our office features state-of-the-art equipment and amenities.
We accept most dental insurance and are in-network with many insurance companies, we also offer patient financing. Stop by our front desk to learn more about how to determine if we accept your insurance.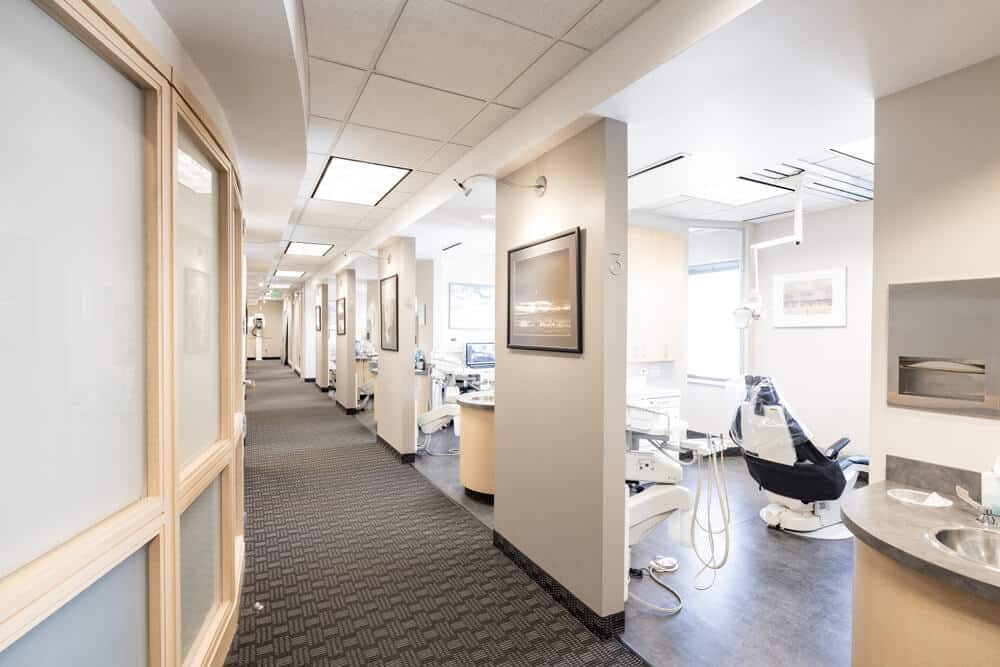 Visiting our Cherry Creek Denver Office
If you are interested in learning more about us and our dentistry practice, free consultations are available for you to see the office or ask us a question about your dental health or dental goals. If you choose us as your dental team, your initial visit with us will include a comprehensive exam, a review of your x-rays, and a discussion of your goals and how we can help you improve your oral health, teeth, and smile.
We are committed to helping our patients achieve and maintain excellent oral health and a beautiful smile. Our dentists and hygienists provide the full range of dental hygiene treatments, preventive care, and treatment of dental problems. Our founding dentist Dr. Michael DeWitt is experienced in complex dental procedures including the replacement of missing teeth with dental implants and dental bridges. He is also an experienced sedation dentist and can administer IV sedation for patients with dental phobia.
Patients of DeWitt Dental Associates Cherry Creek are encouraged to park in the parking garage located at Griffis Cherry Creek North located at 55 Cook Street. Please see our new Parking Information page for information about the garage.
To learn more about our Cherry Creek dentistry services, please contact DeWitt Dental Associates to schedule a consultation. Our experienced dentists serve Cherry Creek, Denver, Englewood, and the surrounding areas.