Dr. Mike Norouzinia, DDS
Periodontist & Dental Implants Cherry Creek Denver | Denver, CO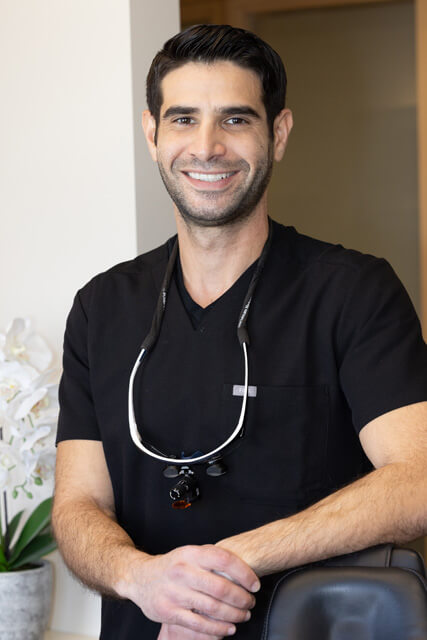 About Dr. Norouzinia
Dr. Mike Norouzinia (Nor-ow-zeen-ya) is one of those special periodontists who has great technical skills and builds strong patient relationships. He brings this level of expertise and caring to his Periodontal Specialties of Gum Surgery and Implants.
Dr. Mike received his Doctorate in Dental Surgery from the University of Texas Health Science Center College of Dentistry at San Antonio in 2011. Following dental school, he completed an accelerated two and a half year residency program at the University of Missouri-Kansas City School of Dentistry and received his specialty certificate in Periodontics and Master of Science in Oral and Craniofacial Sciences (OCS). During residency, Dr. Mike focused on research and the effect of biomaterials on clinical healing and pain following tooth extraction. Dr. Mike is Board Certified, holding the prestigious title of 'Diplomate of the American Board of Periodontology', a recognized specialty of the American Dental Association.
Dr. Mike constantly seeks opportunities to refine his clinical skills and patient care through continuing education. He also has a passion for training other professionals and has established a dental hygiene study club with a focus in Periodontics and Implantology.
Dr. Mike has provided patients with quality, specialty services for over 7 years and believes communication is the key to excellent care and effective professional relationships. He strives to work with patients to find the best individualized treatment plan for them. Dr Mike practices every other Monday at DeWitt Dental Associates Cherry Creek and has is own practice Highlands Ranch Periodontics and Dental Implants in Highlands Ranch.
Personal Interests
Dr. Mike has been proud to call Denver home for several years. When not working, he enjoys spending time participating in all that Colorado offers including hiking, snowshoeing, strength training, and snowboarding.