Dental crowns used to take weeks to place. First there was the initial visit. Then there was a visit for tooth preparation and the creation of a wax mockup. Then there was a third visit for the placement of the crowns – milled off-site by a company that has never seen your actual smile – and the hope that they are shaped, sized, and colored correctly, lest there be a fourth trip for modified crowns.
This process is not only inconvenient, it can leave vulnerable teeth unprotected for weeks at a time and is ultimately not great for the patient. But if you need a dental crown, what option do you have?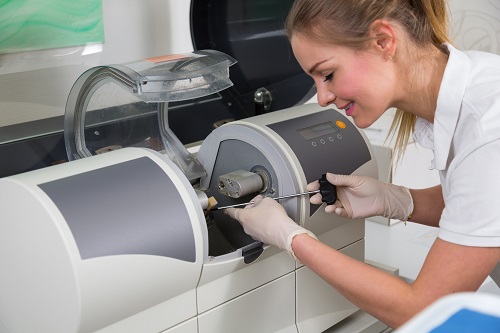 Crowns in a Day
At the Denver office of DeWitt Dental Associates, we are happy to offer same day dental crowns. Milled to our exact specifications while you wait, our one-day dental crowns are shaded and shaped to fit perfectly into your smile during a single office visit. This saves you time and money without compromising quality or aesthetics, making the process ideal for the treatment of teeth that have been:
Weakened by a root canal
Impacted by trauma or severe decay
Worn down by grinding
Our same day dental crowns are created with advanced CEREC technology – an advancement in dental restorations that uses computer imaging to design the perfect crown for each need. Your dental crowns will be precisely sculpted using a diamond cutting technique, allowing them to fit seamlessly into your smile. And studies have shown that, even after nine years of use, nearly 100% of patients with CEREC dental crowns continue to be satisfied.
Fast and convenient, attractive and long-lasting, the advantages offered by one-day dental crowns is clear. If you are in need of a restoration and don't want to wait several weeks or make multiple trips to the dentist, please contact us online or by calling 303-321-5656 to schedule an appointment today. DeWitt Dental Associates is conveniently located near the Cherry Creek Mall. We welcome patients from all Metro Denver communities.