Did you know that the average temperature for Denver, at this point in the season, is 79 degrees? While still hot, 79 seems almost balmy in comparison to the streak of 90+ degree days that Denver has recently experienced. And there is no indication that this trend is going to stop, meaning big business for the Mile High City's many ice cream shops.
Denver boasts a number of unique ice cream parlors, many with interesting and unusual offerings alongside classics like chocolate and vanilla. These treats beckon on hot days – to adults and children alike – with the promise of something cold and satisfying. But what about the health of your teeth? Should worry about tooth decay keep you from enjoying ice cream this summer?
Summer Treats. Summer Teeth.
How bad is ice cream for oral health? No worse than any other sugary treat – and much less than some.
The truth is, people with healthy teeth and gums should be able to enjoy ice cream in the same way they enjoy all other sweets: in moderation. Ice cream is soft and some of the sugar it contains can be rinsed off of the teeth by drinking water while and after consuming it. However, it is still best to brush your teeth within an hour of eating anything sugary. It is, in fact, best to brush your teeth after every meal and snack – ice cream or no.
While ice cream itself is not a huge oral health concern, many of the add-ons people put in and on this summertime treat are. Sticky and chewy foods and harder candy (or candies that harden when frozen) pose larger risks for tooth decay and may even damage restorations such as dental crowns. To reduce these risks, forego the gummy bears, candy-coated chocolates, English toffee, and other hard, sticky, or chewy additions and enjoy the treat in its simpler form.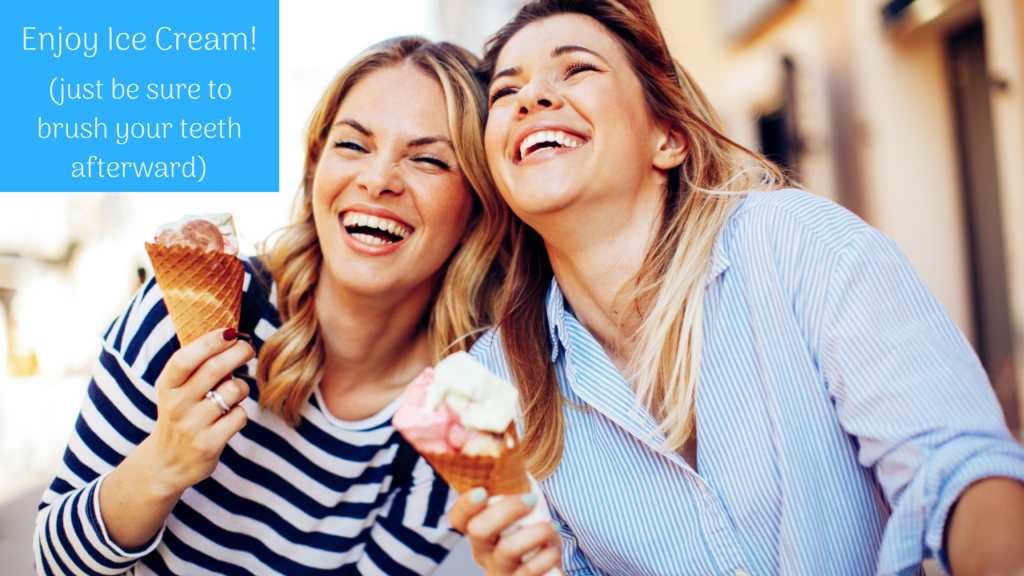 Help! I've Damaged My Teeth!
Ice cream on its own should pose little to no risk for dental trauma. Sticky and hard candy, on the other hand, often do. If, while eating something sticky or frozen, you damage a veneer, crown, or other restoration, we can help. We offer emergency dental services for existing patients undergoing trauma as well as swift scheduling for new patients in need or dental care.
With advanced CEREC technology, we are able to produce same day dental crowns that look, feel, and function like your natural teeth, in addition to many other tooth-colored restorations. If you have damaged your teeth or an existing restoration, we welcome an opportunity to meet with you, discuss our many treatment options, and to help you find the best one for your needs.
If you live in the Metro Denver area and are in need of an experienced, caring, and effective dentist, please call DeWitt Dental Associates at 303-321-5656 today. Located in Cherry Hills, we welcome patients from all surrounding communities.