CEREC crowns are the fastest dental crown option available today. But not just fast, CEREC technology allows dental crowns to be custom-fitted to your smile, producing restorations that are shaped, sized, and colored exactly like the teeth they are protecting, enabling these same-day crowns to look and feel just like your natural teeth.
If you are in need of a dental crown, give us a call at 303-321-5656 to schedule a consultation at our Cherry Creek office and learn how CEREC technology can restore your smile to perfect in just one office visit.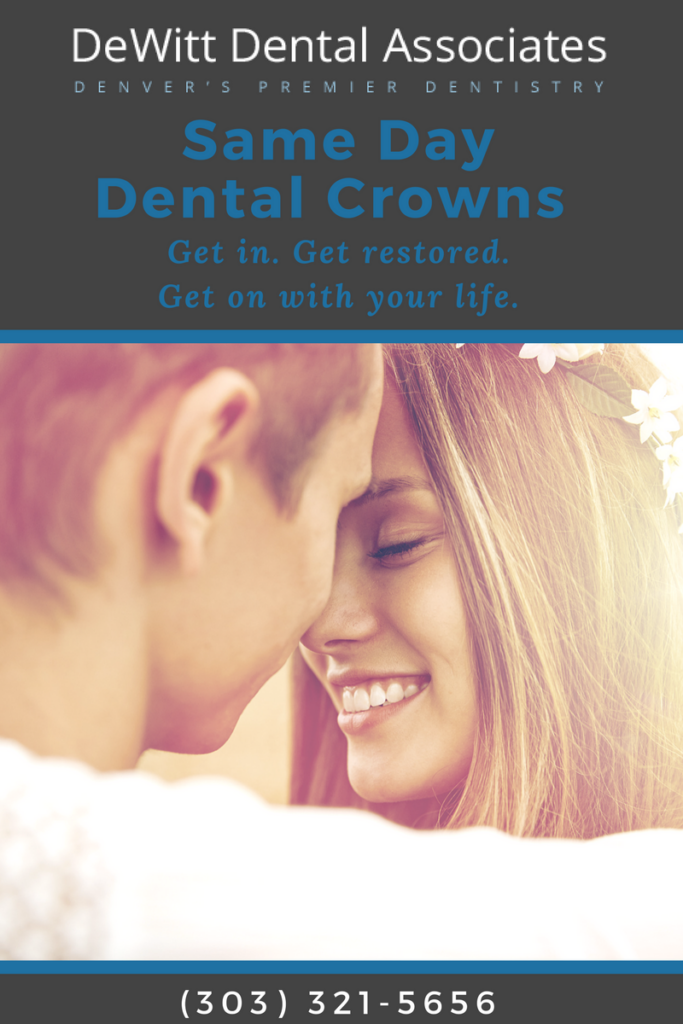 What is CEREC?
CEREC (Chairside Economical Restoration of Esthetic Ceramics) is a technology that allows customized dental restorations, such as crowns and inlays and onlays, to be designed, crafted, and produced during a single office visit. In the past, these types of restorations would require multiple visits for tooth preparation, modeling, and fitting of crowns. This is especially problematic for patients experiencing a dental emergency, but can be equally frustrating for patients who simply need a tooth-colored restoration to protect and strengthen their smiles.
With CEREC technology, our Cherry Creek dentists can produce realistic and durable restorations in a fraction of the time needed for those produced by a third-party. Cutting out the middle-man saves you time and money, but it also ensures that every aspect of your treatment is overseen by our trusted cosmetic dentists and experienced staff, providing you the comfort of knowing the dentist who designed your restoration will be involved in both its creation and placement as well.
The CEREC procedure contains five steps:
Imaging – using an intraoral camera, one of our dentists will take detailed scans of your teeth and gums
Modeling – images from the intraoral camera are sent to proprietary software that renders them into a 3D model
Build-up – working with the 3D model, restorations are built-up virtually, to create a completely digital model for the milling machine
Milling – using the built-up model to collect measurements, the milling machine will craft a precise restoration out of ceramic or zirconium
Placement – after its creation, your crown or restoration will be placed and secured, enabling you to leave our office with a fully restored smile
The milling machine we use for same day crowns produces restorations that are visually complementary to adjacent teeth. The materials used for CEREC restorations are durable and reliable as well. Taken care of properly and your CEREC crowns should continue to offer strength and beauty for several years.
CEREC Restorations and Durability
In clinical studies, CEREC restorations have lived up to the same expectations as those milled off-site. In fact, a report from the Journal of the American Dental Association found that, for a large majority of patients, CEREC restorations have a life expectancy of 10 years or more. The main concern with both CEREC and traditional restorations is margin wear, but according to the JADA, this rarely leads to complete failure of the crown.
You can help keep your same day crowns strong and attractive by taking proper care of them. This includes:
Using a soft-bristled toothbrush. Medium bristled toothbrushes are not good under any circumstances. They can remove enamel and scratch all types of restorations. It is recommended that you use a soft-bristled toothbrush even if you do not have crowns
Using a non-abrasive toothpaste. Unless your teeth are stained, you probably don't need to use an abrasive toothpaste. If you have restorations, you should avoid this type of toothpaste altogether
Not chewing ice or hard candy. Biting hard things can chip, crack, or break even the strongest of dental restorations
Avoiding mouthwash with alcohol. Some mouthwashes can weaken dental bonding. If you have restorations, it is best to simply use a non-astringent mouthwash
When you come to DeWitt Dental Associates for CEREC restorations or emergency dental services, we hope you will choose to make us your general dentists as well. In these cases, we can monitor the health and adhesion of your same day restorations during your routine visits for cleanings and examinations. If issues with your restorations are present during these visits, we can make adjustments or replacements to help ensure continuous strength and beauty for your smile.
More Than Crowns
The most popular CEREC restorations are dental crowns. These may be necessary when teeth are:
Chipped, cracked, or broken
Severely decayed
Infected
Same day dental crowns can also be used to create dental bridges or to restore dental implants for patients with missing teeth.
In addition to one-day dental crowns, CEREC technology can create:
Inlays and onlays to treat decay in between or overlaying cusps
Dental veneers for instant orthodontics and minor cosmetic restoration
While CEREC cannot create porcelain veneers, ceramic restorations are a possibility. However, our cosmetic dentists will likely recommend veneers created off-site for optimal strength and beauty.
At our Cherry Creek office, we use CEREC primarily for same-day dental crowns. However, if there is a quick restoration that could benefit your smile, we may recommend CEREC to help save you time and money. This can be discussed as appropriate during your normally scheduled visits to our office or provided as an option during an emergency dental visit.
Why Choose DeWitt Dental Associates
At DeWitt Dental Associates, we believe in providing a comfortable and quality experience for everyone who walks through our doors. We are staffed by caring and highly trained dental professionals and our dentists have decades of combined experience helping patients achieve all of their oral health and beauty goals.
We don't view you as just another patient. We view you as a unique individual, deserving of personalized treatment and focused care. Our reviews speak to the level of service we offer and many patients have submitted testimonials that attest to our quality care and advanced dental services. If you live in the Metro Denver area and are looking for a dentist who offers same-day restorations in addition to a full range of general, cosmetic, and restorative services, we encourage you to call our office today and schedule your next appointment.
To schedule an appointment, please call 303-321-5656 today. DeWitt Dental Associates is located in the office complex at East 1st Avenue and Cook Street in Cherry Creek. We welcome patients living in Highlands Ranch, Littleton, Englewood, and all surrounding communities.