Tooth grinding, also known as bruxism, is a common stress response. It is also something that often occurs during sleep – a factor that can allow teeth grinding to go unnoticed until damage has already been done.
During your routine cleaning and examinations, our highly trained hygienists and Denver dentists will look for signs of bruxism such as uneven tooth wear or surface trauma. You can assist us in detecting these signs by informing us if you are experiencing symptoms of tooth grinding as well. These can include:
Frequent morning headaches
Pain or swelling in the jaw joint
Jaw stiffness or lockjaw
Loose teeth
These symptoms may indicate nocturnal teeth grinding and should not be ignored.
Left unaddressed, bruxism can result in chronic pain, limited ability to bite and chew, significant tooth damage, and even tooth loss – all of which is entirely avoidable when tooth grinding is caught and treated early on.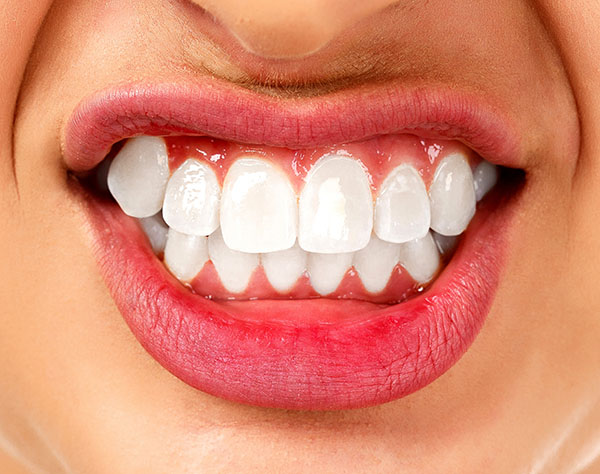 Am I a Tooth Grinder?
If you are experiencing any of the above symptoms, you may be a tooth grinder. If you struggle with anxiety or have difficulties dealing with life's stressors, you may be a tooth grinder. If you notice your jaw is clenched at various points throughout the day, you may be a tooth grinder. If you even suspect this is the case, a call to our Cherry Creek dental office for a complete examination is essential for the preservation of your smile.
Not everyone knows if they grind their teeth. This is just one reason it is important to maintain biannual visits with our dentists for thorough examinations. If we discover indications of tooth grinding, we can provide safe and effective treatments that both protect teeth from future damage and restore teeth that have already been impacted by your habit.
Teeth Grinding Treatment
To help prevent future damage from bruxism, we typically suggest a customized mouth guard. Worn while sleeping, these custom-fitted orthotics rest comfortably in the mouth where they provide a buffer between the teeth. While these mouth guards do not prevent the clenching of the jaw, they do prevent that clenching from chipping, cracking, breaking, and wearing down the teeth.
We may also recommend stress reduction techniques, reduced late-day caffeine intake, and other behavioral changes that can help prevent the clenching of the jaw itself. These simple changes can complement the tooth protection offered by your mouth guard and help and provide a lasting solution for your teeth grinding.
Teeth that have already been damaged through grinding can be restored with same day dental crowns. Designed, shaped, shaded, and crafted for your unique smile during a single office visit, CEREC crowns are durable, attractive, and effective at protecting teeth that have been damaged through bruxism.
The high-quality ceramics from which these "crowns in a day" are milled look and feel like natural tooth enamel, making your restorations unobtrusive and allowing them to seamlessly match surrounding teeth. During your initial consultation with one of our experienced dentists, we will discuss tooth grinding prevention and available treatment options to help you find the solutions ideally suited to your needs.
Please call DeWitt Dental Associates at 303-321-5656 to learn about tooth grinding treatments in Denver. Our dentists welcome patients from Littleton, Englewood, and surrounding Metro Denver communities at our convenient and comfortable Cherry Creek office.