Chipped teeth may not seem like a big deal, especially if they aren't causing any pain. However, even a small chip in the enamel of your teeth can increase risks for tooth decay and infection.
Tooth infection may produce symptoms including increased tooth sensitivity and persistent bad breath. An infected tooth may also allow bacteria to spread into the gums and throughout the body, increasing risks for additional oral and systemic health problems.
While not all chipped teeth will lead to infection, the possibility exists, making it a good idea to call our Cherry Creek cosmetic dentists at 303-321-5656 to schedule a consultation as soon as a chip occurs.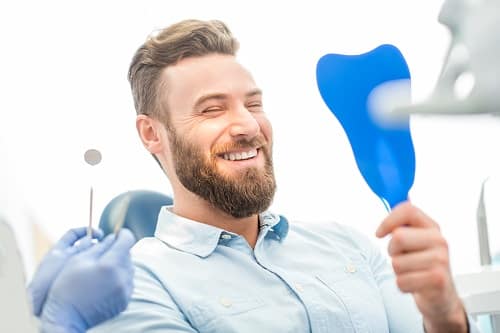 Dental Bonding
One of the most common fixes for a chipped tooth is dental bonding. Applied in layers to the surface of the tooth, bonding can be built up, colored, and shaped to restore the appearance of the tooth. Dental bonding prevents bacteria from entering the tooth, acting as a shield against food particles as well.
This solution is not as long lasting as other chipped tooth treatments and may require somewhat frequent reapplication.
Benefits offered by dental bonding include:
Swift results
Customized shading
Minimal tooth preparation
Porcelain Veneers
If your chipped tooth is a canine or incisor, porcelain veneers may be the most effective option. Incredibly durable and beautifully crafted, porcelain veneers are placed over the front of chipped teeth to improve appearance and help prevent infection.
The process for placing veneers typically takes three to four weeks, but results can last for ten years or more.
Benefits offered by porcelain veneers include:
Long lasting results
Full restoration of appearance
The ability to fix multiple problems at once
Dental Crowns
When a bicuspid or molar is chipped, a dental crown may be the most effective treatment. We offer same day dental crowns at our Cherry Creek office, allowing us to restore complete strength and function in a single office visit. What's more, these crowns are created to look and feel just like your natural teeth – and shaded to fit seamlessly into your smile.
Benefits offered by same day dental crowns include:
Single visit solution
Complete functional restoration
Lasting protection against subsequent damage
Choosing What's Best for You
There are several options when it comes to fixing chipped teeth, but not each will be ideally suited for every patient. When you come to our office for a restorative treatment, we will carefully evaluate your smile and discuss all of your options, helping you find the solution that meets your desires, your needs, and your budget.
We take great care to provide individualized solutions for our patients and look forward to learning how we can help protect and perfect your smile.
If you live in the Metro Denver area and are living with chipped, cracked, or broken teeth, please call DeWitt Dental Associates at 303-321-5656 to schedule a consultation today. We welcome patients from Littleton, Englewood, Highlands Ranch, Aurora, Arvada, and all surrounding areas.