With Valentine's Day just around the corner, it's important to look and feel your best, starting with your smile. However, not everyone is confident with the way their smile looks. Fortunately, if you are spending the holiday with your sweetheart, there are cosmetic dental procedures and other general treatments that can help you prepare for your date.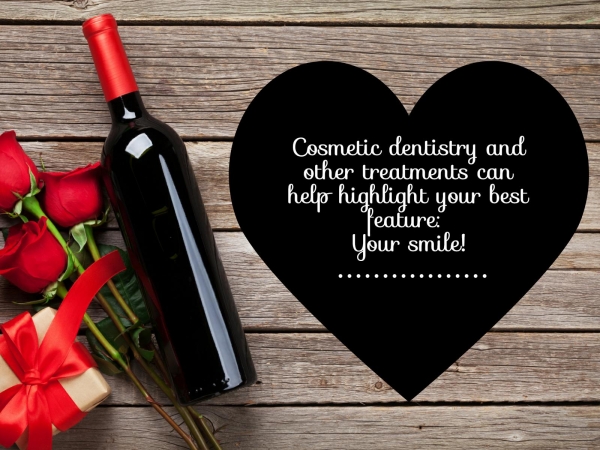 Teeth Whitening
Millions of Americans suffer from tooth discoloration or stubborn stains on their teeth. Having discolored teeth can make you appear older than you really are. Teeth whitening can help brighten your smile, and restore your youthful look. With advanced technology, it's possible to get your smile up to eight shades whiter in just one office visit.
Regular Cleanings
Even if you don't need a teeth whitening procedure, regular teeth cleanings and exams are important in maintaining a healthy, vibrant smile. To get ready for your date, call your dentist to schedule a last minute office visit. This can help address underlying issues that may cause bad breath and tooth decay.
Dental Bonding
If you're self-conscious about a cracked or chipped tooth, dental bonding may be the answer you need to restore your smile. This simple procedure involves a dental material that is bonded and shaped to look like your natural teeth. Dental bonding allows you to restore your smile without undergoing a complicated, invasive procedure.
As you prepare for your Valentine's Day celebration, be sure to think about more than just the outfit you wear or the restaurant you're going to. Research suggests that people take note of another person's smile in order to form a first impression. Our cosmetic dentists at DeWitt Dental Associates can help.
To fully determine which cosmetic dentistry procedure is right for you, we will meet with you in person to discuss your oral healthcare goals and needs. Together, we will work to formulate your personalized treatment plan to help you get the smile you want to achieve.
If you are in the Denver area and would like to learn more about your cosmetic dentistry or general dentistry options, give our office a call at 303-321-5656 to schedule your initial consultation.